Long-term Vision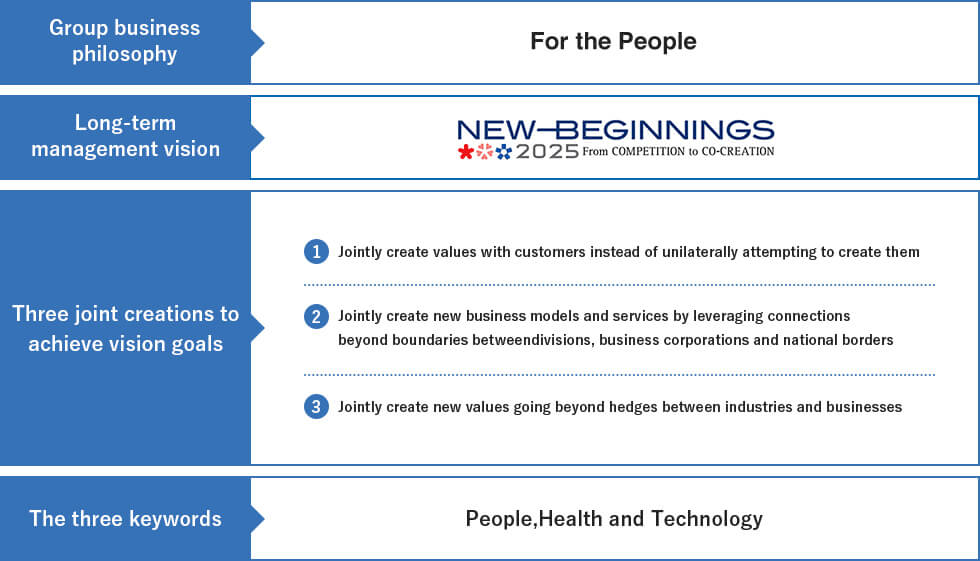 Basic Policies
Create a new market, deliver new values, and re-define the restaurant industry
The Yoshinoya Holdings Group previously had each of its group companies have their own established business model and accurately implement them to improve on a daily basis for growth. Since the 2000s, however, it became difficult to maintain the expected growth only through these efforts. A "new business model" that can be incorporated in the long-term in place of the current business model is needed to respond to the expectations of our stakeholders.

We expect to take about three years to carry out measures that will create an unprecedented" new business model," and will create markets and deliver values that exceed the existing scope of the restaurant industry within those years. The Group will have to make rapid progress through further drastic innovations in addition to strengthening reforms that sets apart from conventional measures. We name these innovations the "Re-definition of the restaurant industry," and will work on it as an issue for the entire Group.
Issues for the Group overall
Provide new values to improve profitability of existing businesses


Launch new menus, improve in-store operations and incorporate new marketing methods

Growth and expansion of scale through opening stores in Japan and overseas


Develop new business formats and new locations to accelerate opening of new stores, particularly in Asia

Create new businesses and establish foundations for new business launches


Leverage existing management resources and technology, together with forming strategic alliances
The 3 keywords, "People, Healthy and Technology"
On "People"


We place most importance on "People" among the three keywords, "People, Health and Technology" that are set in the long-term vision "NEW BEGINNINGS 2025" when aiming for "Re-definition of the restaurant industry." The values and happiness generated by having "People's" interaction are what we have, and will continue to embrace. The focus on "People" will change labor costs into added value, and also converts restaurant industry businesses into industries with high public interest that contributes to society by creating employment.
We will work to become a corporate group that will thrive and develop while enhancing values together with our stakeholders by materializing the "re-defining of the restaurant industry." The lack of labor in Japan is becoming an issue for measures pertaining to "people." We will focus on creating stores that will become attractive workplaces in which human resources will want to work, and we will provide opportunities for growth to employees through our businesses. The Group will then pursue values that are generated by leveraging "people" so that those values will be delivered to our customers.

On "Health"


For the "Health" keyword, the Group plans to deepen its measures towards seeking "healthiness" backed by evidence from "being healthy" for its future menu and ingredients development for each of its companies, and invest both time and cost to do so. At the same time, the Group will also incorporate measures for its employees. In the previous term, the Group appointed and inaugurated CWO (Chief Wellness Officer) who represents "Wellness Management" that incorporates employees' physical and mental health as the Group's pillars for management, but we will now expand this mindset starting from the management in order to enhance and penetrate health literacy. The Group will start measures to improve qualities of sleep to lead to securement of employee health amid the irregular time shifts that are characteristic of the restaurant business.

On "Technology"


In addition to product sales and "take-away" reservations through the internet together with loyalty applications equipped with artificial intelligence, the Group perceives Yoshinoya's incorporation of the "T-Point" service network as one of its turning points. To effectively leverage Big Data to be acquired from "T-Point," the Group will learn effective methods to do so. Through these measures, the Group will be able to grasp the thoughts and behaviors of customers who have not visited Yoshinoya restaurants, establish a foothold for increasing restaurant visitors within the next three years and hopefully leverage the know-how to the Group. On the other hand, the utilization of technology is also a key factor in reducing the workload of employees working in restaurants. The Group will secure labor and enhance customer service by adopting facilities and equipment that simplify and streamline complicated in-store operations and improving the workplace environment.
From "Competition" to "Co-Creation"
当To create a structure that can more promptly work on growth strategies, the management teams of each of the group companies have strengthened ties between companies through participating in strategic management of the Group overall. The companies are already actively exchanging personnel between each others. In terms of creating the organization, our Group companies have started leadership training to have supervisors, directors and other executive candidates learn about management that achieves growth by leveraging external insights and networking capabilities and having sophisticated perspectives based on the concept of shifting from "competition" to "co-creation."
In addition, diversity (diversification of human resources structure) is another indispensable aspect in establishing organizations. There are two types of innovation, one is created by delving into and mastering something, while the other is created through emergence from a diverse organization. The Group will further penetrate diversity in order to strive for the two types of innovation as well.