Our Approach to Sustainability
The business philosophy of the Yoshinoya Holdings Group, "For the People," holds that companies exist to serve the needs of society and to contribute to the greater happiness of mankind. To ensure that we put this into practice, we emphasize environmental (E), social (S), and governance (G) perspectives throughout our business activities.
Various issues have emerged in recent years concerning the environment and society. Addressing these issues has become an important management theme for the Group, particularly given that our operations extend around the world. By promoting ESG management, the Group strives to address environmental and social issues, working with our stakeholders to realize a sustainable society.
Under our long-term vision "NEW BEGINNINGS 2025," the Group is committed to creating new markets and delivering value that will redefine the restaurant industry. Redefining the restaurant industry means replacing our existing business model. We must create a new business model that we can operate over the long term to drive robust, sustainable growth. The continuity of our business depends on this shift.
Our long-term vision positions this redefining of the restaurant industry as its basic policy. It includes many themes that also relate to the achievement of the SDGs (Sustainable Development Goals). We will focus the efforts of our entire Group on carrying out this vision.
Sustainability promotion system
A system led by the Group Planning Department is in place for groupwide promotion of sustainability. Through this system, promotion departments relevant to our five material issues plan and draft policies and measures, which are then discussed with all executive members and department heads of the Group at group-wide meetings, Group Strategy Council meetings, and department heads meetings. The results are reported and submitted to the Board of Directors. Discussions and exchanges of opinions were held on our Basic Sustainability Policy and five material issues in FY2021 and on human capital management in FY2022 at meetings attended by not only the Board members but also the all the executives and department heads of the Group. By having executives and department heads participate in discussions, we ensure that the entire organization, rather than only the promotion departments, takes charge of efforts toward sustainability. This sustainability promotion system is woven into our organizational culture and business processes, helping us realizing the corporate mission of fulfilling our social responsibility. We will maintain a positive and continuous commitment to a sustainable business to make society better.

Materiality
Based on the Yoshinoya Holdings approach to sustainability, we aim to address recent changes in the social environment and social demands as we work to further enhance our corporate value. We have therefore clarified the relationship between our business activities and social issues from an ESG perspective. We have identified material issues that contribute to the realization of sustainable corporate growth and a sustainable society.
Materiality process

Our Materiality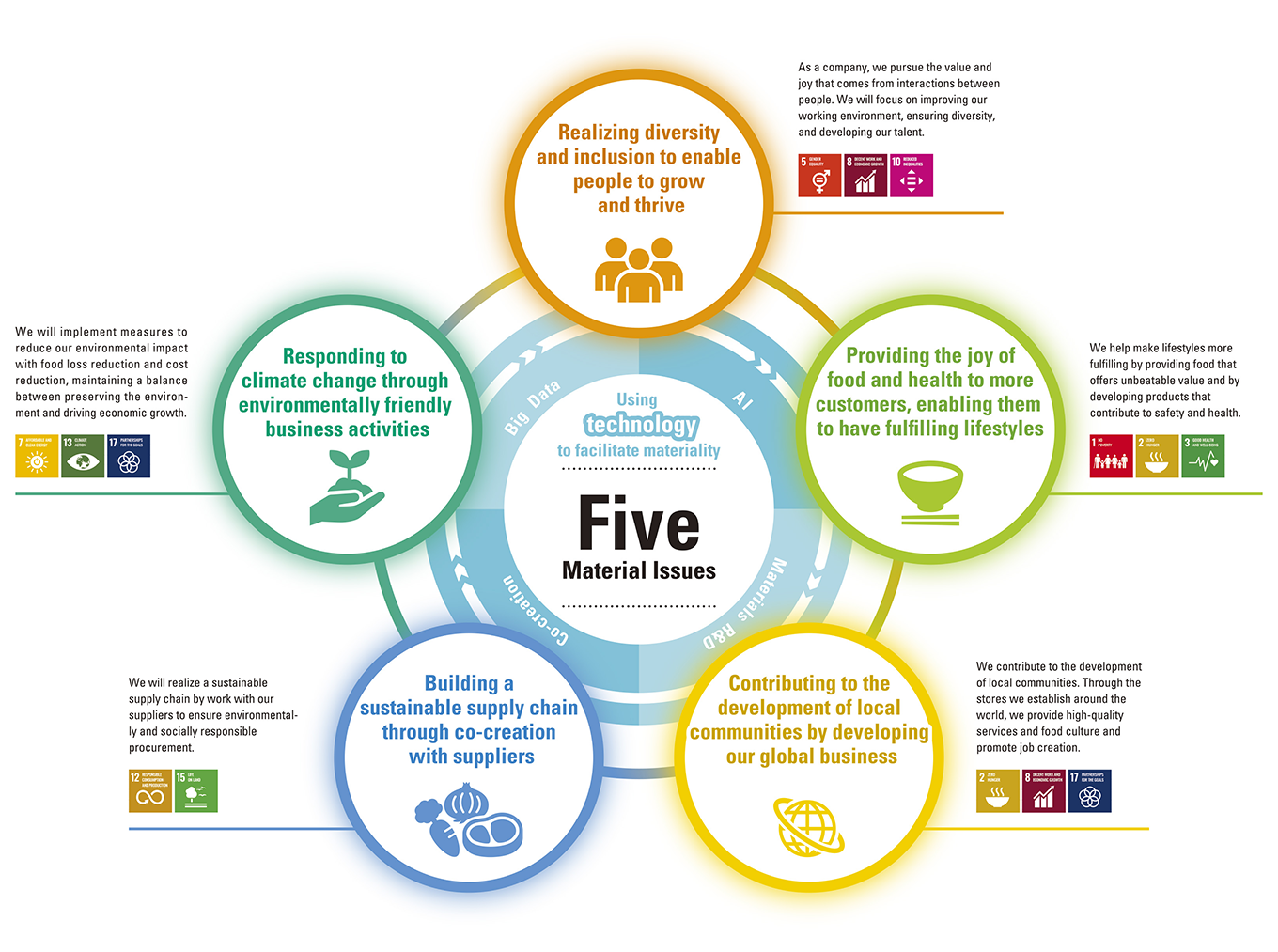 Materiality distribution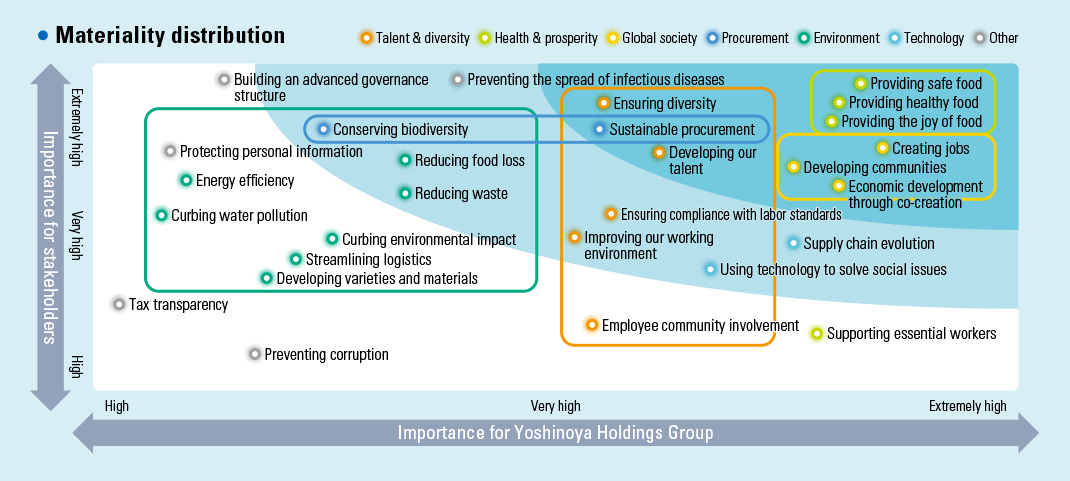 Materiality and the role we want to play