*The number of restaurants represents the figure as of the end of December in the corresponding year.
Yoshinoya USA, Inc. is established.
Most of the meat used by Yoshinoya was U.S. beef short plate. In those days, procuring beef was very difficult, given that there was a limit set on beef imports, and that other food service businesses were experiencing growing demand for beef. Yoshinoya Co., Ltd. established a U.S.-based subsidiary, Yoshinoya USA, Inc., on March 15, 1973 for the purpose of setting up a base for purchasing beef.
Beef import ban
In February 1974, the Ministry of Agriculture, Forestry and Fisheries introduced a ban on beef imports in order to safeguard domestic livestock farmers.
Overseas expansion begins.
Soon after the founding of Yoshinoya USA for beef purchases, the Japanese government imposed a ban on beef imports. Losing its original business, Yoshinoya USA embarked on the sale of beef bowls as a last resort. This is how the overseas expansion commenced.
In February 1975, the first overseas restaurant opened in Denver, Colorado. Right from its launch, the beef bowl proved popular. Most customers were locals. The restaurant sold an average of 1,000 beef bowls per day.
Restart in Los Angeles
In March 1981, Yoshinoya West filed a petition for relief under the Bankruptcy Code at the United States District Court in Los Angeles to take its first step towards reconstruction. This followed a petition filed by Yoshinoya Co., Ltd. for corporate reorganization in Japan in the preceding year, specifically on July 15, 1980. Closing four out of the 13 Yoshinoya restaurants in the States, Yoshinoya's U.S. operations relaunched with the remaining nine restaurants in Los Angeles.
Teriyaki Chicken Bowl released as a second mainstay item
As part of its corporate rehabilitation efforts, Yoshinoya West created some new items. In addition to the large bowl and the green salad, a second mainstay item following the beef bowl, namely the Teriyaki Chicken Bowl, was invented at the same time. At that time, the dieting craze was switching the preferences of American people from red meat (i.e. beef) to white meat, such as chicken and fish. This helped turn the Teriyaki Chicken Bowl into a smash hit.
Completion of corporate rehabilitation to expand business operations
In December 1985, Yoshinoya West finished repaying its total debt of 1.65 million dollars to complete its corporate rehabilitation process earlier than Yoshinoya Co., Ltd. in Japan. On December 20, 1985, it took the first step towards expanding its business operations as it took over Yoshinoya America, Inc.
The first Yoshinoya restaurant in Taiwan opens.
In 1988, the Guanqian Store opened as the first Yoshinoya restaurant in Taiwan, where striking growth was seen in many different areas.
Taiwan had a large population that did not eat beef due to its unique local culture. There were plenty of stands offering low-priced food. Paying full attention to local cultural backgrounds, notions, and customs, Taiwan Yoshinoya endeavored to offer products and services that would be popular with locals and tailored the restaurant to the local conditions and environment.
Yoshinoya grabs attention in Hong Kong for its high-end orientation.
To launch a restaurant in Hong Kong, where the economy was growing rapidly at the time, Yoshinoya Fast Food (Hong Kong) Limited was established as a joint venture with a local business. With a relaxing look based on light orange and green and its location in an office district, the Yoshinoya restaurant in Hong Kong won broad support among high-end customers. It attracted so much attention that the media reported a long line of waiting patrons forming on its first day.
The Shilin Store is revamped as a walk-up restaurant.
On August 8, Taiwan Yoshinoya reopened the Shilin Store after revamping it into a walk-up restaurant, characterized in that most seats were at tables and that customers paid before eating. This practice differed from typical Yoshinoya restaurants in Japan, where customers were mainly seated along the counter and paid after eating. The menu was also changed. In addition to the beef bowl, the teriyaki chicken bowl became available. In Taiwan as well, the teriyaki chicken proved popular as a healthful alternative. Teriyaki chicken bowl sales were so high that they soon rivaled sales of the beef bowl.
The first Yoshinoya restaurant in Beijing is spotlighted for its food court style.
While there were numerous stands offering meals at about two yuan around Beijing, Yoshinoya priced a beef bowl at 6.5 yuan. This shows that Yoshinoya was ranked at a medium or high level among restaurants in the Beijing area. The restaurant was operated not as a standalone type but as part of the food court. Given synergy with other operators and the novelty of the food offered, it drew the attention of locals. Its mainstay items were the beef bowl, the chicken bowl, and the combo. In its early days, it sold around 1,000 bowls a day on weekdays and around 2,000 a day on weekends.
The first Yoshinoya restaurant in Shanghai opens.
The first Yoshinoya restaurant in Shanghai, called the Nanjing East Road Sincere Store, is located on Nanjing East Road, a busy shopping area with the longest history in the city. It was launched as a flagship restaurant for Yoshinoya's future expansion in China.
The first Yoshinoya restaurant in Shenzhen opens.
Inaugurated on October 27, the Huafa North Road Store was the first Yoshinoya restaurant to be operated by Shenzhen Yoshinoya Fast Foods. Located in a major shopping center in one of China's largest shopping districts, it had a high ceiling and looked like a stylish coffee shop.
Yoshinoya honored as the most trusted brand
Beijing Yoshinoya Fast Foods was honored by the People's Daily Market Information Center as the brand most trusted by consumers in the Chinese fast food chain market in 2004. The winner of this prize was decided by the votes of more than 100 commercial associations, more than 30 media outlets, and more than 800,000 consumers. Beijing Yoshinoya gained 71% of the votes. It also won a special prize in the First Beijing Food Festival and was acknowledged as an excellent Chinese company. This demonstrates that the Yoshinoya brand was not only recognized in China but also highly regarded for its sound performance and profits and for its social contribution activities.
The first Yoshinoya restaurant in Fujian opens.
To kick off the initiative for launching 15 Yoshinoya restaurants, mainly in the cities of Fuzhou and Xiamen by 2013, the Yuanhongcheng Store opened as the first Yoshinoya restaurant in Fujian. Several major foreign fast-food restaurant chains were already operating in this Chinese province, but many restaurants were still being run by individuals. In contrast to other Chinese cities, the initiative started with brand recognition efforts.
Yoshinoya returns to Indonesia.
On June 25, the first Yoshinoya restaurant in Indonesia after the comeback opened in a high-end shopping center called Grand Indonesia. Equipped with 154 seats, it adopted a system different from that common in Japan, with customers placing their orders at the entrance to receive their beef bowls or other food items before taking their seats at tables to eat them there.
The beef bowl was priced at 25,000 rupiah, inclusive of tax. The menu also includes the chicken bowl and the combo. According to the plan, a total of 10 restaurants would be launched and operated in Jakarta over the following three years. Subsequently, the total number of restaurants, including those in provincial cities, would be increased to 100.
Yoshinoya returns to Thailand.
On August 28, the first Yoshinoya restaurant in Thailand after the comeback opened in CentralPlaza Ladprao. The local franchisee, Central Restaurants Group Co., Ltd., is at the heart of the Central Group, an influential overseas Chinese-owned corporate group in Thailand. A major food services group, Central Restaurants Group operates more than 500 restaurants.
Opened 1st store in Malaysia
On May 11, the Yoshinoya- Hanamaru-combined store, our first store in Malaysia, opened in Mid Valley Megamall, one of the biggest shopping malls in South-East Asia.
The first restaurant is opened in Qing Hai(Quing Hai Fang Zhi Pin).(May.30)
Our first Qing Hai Yoshinoya outlet opened on May 30, 2017, in Quing Hai Fang Zhi Pin building, located at the entrance of Li Meng pedestrian street, one of the biggest commercial districts in Xi Ning city. Starting from this outlet, we are planning to have 5 stores in three years.
Opened 1st Store in Sichuan (Parkson-Sichuan Center) (November 27)
November 27, The first Yoshinoya store opened in Parkson-Sichuan Center on the Chunxi Road pedestrianized shopping street, the largest commercial area on Chengdu.
Service will be provided combining local features and Japanese harmony, in a casual store. Starting with the Parkson-Sichuan Center, we plan to increase the number of outlets to 10 stores within three years.
Opened 1st Store in Chongqing (Long Hu Bei Cheng Tian Jie) (May 16)
May 16, Chongqing
The first Yoshinoya store opened in Long Hu Bei Cheng Tian Jie.
Long Hu Bei Cheng Tian Jie, a highly known commercial area, is connected to Guan Yin Qiao Pedestrian Street, the largest commercial district in Chongqing.
In recent years, with the introduction of well-known foreign and domestic brands, this area became very attractive to young people and is the birthplace of fashion trends in Chongqing. Starting with Long Hu Bei Cheng Tian Jie, we are planning to open 20 stores within 3 years.
Hanamaru Udon Shenzen 1st store (Shenzen Link City) opened (July 24th, 2018)
Link City is a large underground commercial street spanning the three subway stations in the center of Shenzhen Futian District. It is located in the basement of the Shenzhen Central Commercial District, Shenzhen's business district, and with high pedestrian traffic both on weekdays and holidays, it is the best location as a starting point for Hanamaru Udon in Shenzhen.
Hanamaru Udon 1st Store in Indonesia (Lippo Mall Puri) opened (September 5)
The first Indonesian store, in shopping mall Lippo Mall Puri, is located in West Jakarta City, about 20 minutes by car from Jakarta Airport. It is the best location as Indonesia starting point of Hanamaru Udon. The store is located in the first floor of the basement and it is in the restaurant zone which concept is Japan Takeshita Street.
Jiangxi 1st Store (Nanchang Causeway Bay Plaza) opened (October 1st, 2018)
Nanchang Causeway Bay Plaza, the first store of Yoshinoya Jiangxi Province, opened on October 1st, 2018. Causeway Bay Square is located at the center of the Hong Gu Tan New Ward Project and combines the three elements of commercial, business, and housing complex. We believe that it is perfect for the departure point in Jiangxi Yoshinoya as a brand information dissemination site. Starting with the Causeway Bay Square store, we plan to open 10 stores within 3 years.
Henan 1st store (Zi Jing Shan Rd.) opened (November 19th, 2018)
On November 19, the first store of Yoshinoya Henan Province opened in Zi Jing Shan Rd. It is located in the vicinity of Zi Jing Shan Station and combines the three elements of commercial, business and residential complex. It is located in the main road which passes through the center of Zhengzhou city from north to south, and we think it is a perfect location as brand information dissemination site in Henan province. Starting with Zi Jing Shan Rd store, we are planning to open 30 stores in Henan Province, Shanxi Province, Shaanxi Province by the end of 2021.
Opened first Anhui store (Parkson Shopping Center) (December 20, 2019)
On December 20, we opened the first Yoshinoya store in Parkson Shopping Center (Hefei), Anhui Province. The Huaihe Road pedestrian street where the store is located in the center of the old city district of Hefei City, Anhui Province, a busy area with a large traffic volume. We believe it is the perfect place to establish brand information in Anhui Province. We plan to open 10 new stores within two years, starting with the Parkson Shopping Center (Hefei) store.
Opening of first Vietnam outlet (Yoshinoya Ly Tu Trong ) (December 23, 2020)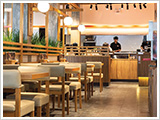 We opened the first Yoshinoya Ly Tu Trong outlet in Vietnam on December 23.The outlet location, Ly Tu Trong street, is considered as one of the best location to spread out Yoshinoya brand since Ly Tu Trong street is located on a central busy street next to Le Thanh Ton Street which has heavy people traffic, many offices and residences. We plan to open new 5 outlets over the next 3 years.
Opening of Yunnan 1st Store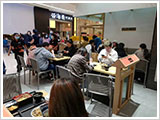 We opened the first Yoshinoya Spring City 66 Store in Yunnan on October, 2021.Directly connected to the metro's Dongfeng Square Station, Spring City 66 is a large complex located in the center of Kunming. Its restaurant area on the 6th floor has gathered the largest variety of dining establishments in Kunming and sees heavy foot traffic on weekdays and weekends alike. Highly visible among others around it, Yoshinoya considers this the perfect location to launch the brand in Kunming.